Kids roam the streets in spooky costumes, seeking sweets, while others of all ages dress up and play pretend. It's all in good fun, right? Well, Axians knows better. We know, all too well, in today's digital realm there are also different worlds with every email, link, website, and call demanding scrutiny. Online scams lurk, and cyber criminals employ deceptive tricks, with no treats, that often lead to financial loss and worse.
We share this as a cautionary tale for businesses and individuals alike. Scams have evolved, becoming more sophisticated. We encountered this firsthand when we acquired an IT services and infrastructure company a few years ago.
Mark Lloyd, Business Unit Manager at Axians UK reflects on the challenges we faced. 'At first, we had no idea that something was wrong. A few individuals called, claiming they expected job offers or had applied but received no response. We informed them we weren't hiring. But the calls kept coming. Our marketing manager launched an investigation and uncovered a disturbing trend. People were submitting application forms, unwittingly revealing sensitive information, including bank details and passports via email.'
Further digging revealed a counterfeit website with subtle alterations, yet it contained our company's information, along with names and images of our team. Attempts to uncover the identity behind the fake site using lookup tools and WHOIS databases proved ineffective. Calls to the listed numbers went unanswered, LinkedIn profiles proved fake, and emails were ignored. The situation escalated through the business, consuming time from the marketing, commercial and IT teams, and eventually senior management.
We reached out to domain registrars and ISPs, but there was no clear path to tackle the malicious site. Even contacting the Information Commissioner's Office (ICO) seemed fruitless. Mark recalls, 'We had to paint a clear picture of the website's fraudulent nature and encourage victims to report it to the ICO, providing evidence and statements. After four painstaking months, the site was finally taken down. The damage, however, was immeasurable. Lives were disrupted by fake job ads, and our company suffered an element of reputational damage. We poured time, money, and effort into resolving the problem.'
So, while Halloween masks and tricks are mostly harmless, the digital realm harbours hidden dangers. From basic security monitoring to setting up a Security Operation Centre (SOC), Axians has your back. Our expert team, robust processes, and cutting-edge tech ensure continuous security improvement. We detect and respond to all threats, safeguarding your data. Our services adapt to evolving threats, addressing negligence or criminal activities for enhanced resilience.
Mark adds, 'Since that incident, we've looked hard for a solution that could enable us to react faster and minimize the impact on individuals and any company's reputation. We discovered a solution capable of taking down such sites in approximately 24 hours and have since partnered with Infoblox, a network and security company that provides both performant connectivity and protective DNS, to add their domain takedown service, designed to help organisations protect their online presence, to our cybersecurity armoury.
Infoblox's Domain Mitigation Service offers continuous monitoring, utilizing advanced algorithms to detect threats like phishing, malware, and domain hijacking. It issues real-time alerts with detailed threat information and provides actionable insights for effective mitigation. The benefits include proactive security, time savings, reputation protection, cost-effectiveness, compliance support, and 24/7 peace of mind for online asset security.
'Ransomware, phishing, and data attacks are daily threats. Cybersecurity now commands a significant slice of every organisation's IT budget. In a rapidly evolving tech landscape, staying secure is paramount for businesses of all sizes. Axians, along with partners such as Infoblox, remain committed to shielding businesses and individuals from malevolent attacks,' concludes Mark.
In this age of digital threat, remember, Halloween isn't the only time two worlds collide. Axians and Infoblox joining forces year-round will help to protect you from the webs of deceit – stay secure, and happy Halloween!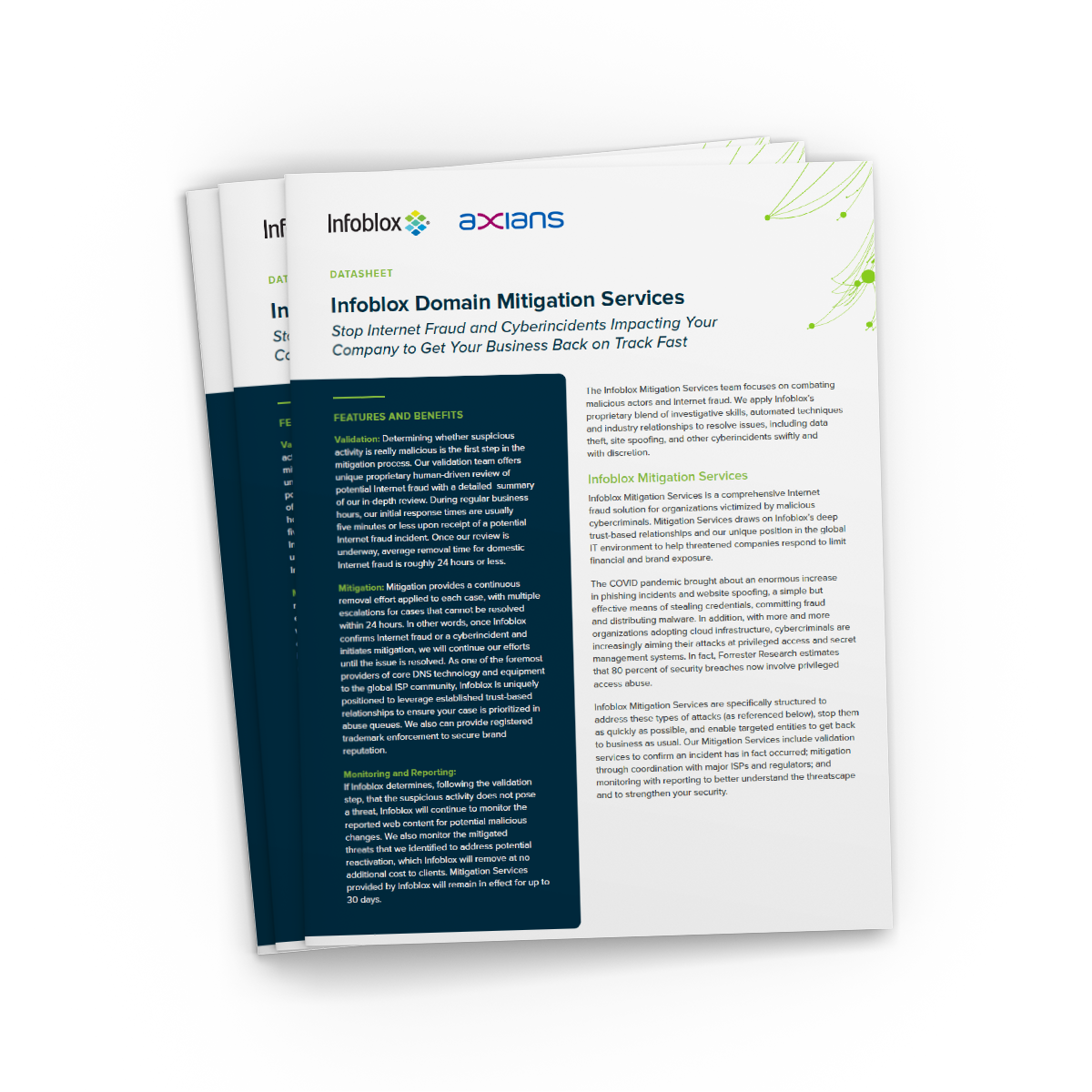 Read the Domain Mitigation Service Datasheet!
Stop Internet Fraud and Cyber incidents Impacting Your Company to Get Your Business Back on Track Fast